The Grand National is a massive test of horse and jockey endurance. Unlike other types of racing which require pure speed, the Grand National includes two circuits of 2¼ miles. The jumps at Aintree Racecourse add an element of danger and skill to racing which tests even the strongest and best trained. The triangular course has some of the toughest jumps to overcome in the racing world, including The Chair and Becher's Brook.
The Chair
The Chair is the second last jump of the course and is the tallest one at 5ft 2 inches. It is a very broad jump with a large ditch before it and turf above the takeoff ground. The tough part of the Chair is because the horse is stretched over the ditch, followed by more distance required to get over the jump. It can look gracious or a disaster depending on the skill and endurance of horse and jockey. The Chair has taken lives before with a fatality in 1862.
Becher's Brook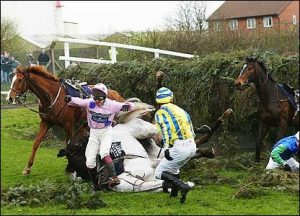 Becher's Brook is a thrilling jump that is completed while turning to the left on landing. The steep stretch that horses must do on the landing side makes it all about timing and concentration for the jockey and horse. The fence is over 6ft on the landing side, and a significant drop from the takeoff also tests the field. The horse can find the extra time in the air on landing surprising and challenging. The jockey has to use their body weight correctly to execute the jump well. The jump is named after Captain Martin Becher who took refuge in the brook after falling off his horse to protect himself from being injured and hit by other horses.
The Grand National has some genuinely great jumps that are incredible to watch for fans and very challenging for horse and jockeys. The Chair and Becher's Brook make the Grand National a vast spectacle.