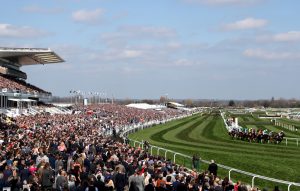 Aintree Racecourse hosts some of the world's most prestigious Steeplechase races including the Grand National. There are usually a number of fences that jockeys must go over to get through a race. They can be terrifying or straightforward and depend on the placement and type of obstacle that has been created.
Deceiving Fences
Some races have flexible plastic fences topped with spruce, and some have much less. It depends on the class of horses, ages and overall experience of the horse. Here are some of the kind of obstacles that can be found at Aintree during the Grand National. These are often overlooked because the Chair and Becher's Brook get much of the attention.
Fences 1 & 17
The fence is not the highest as it is only 4 feet 6 inches (1.37 m). However, as it is the first fence, many riders go too fast and pile up because the field is full. The highest number of falls happened in 1951 when 12 horses were claimed by it. It has since been changed lessen the likelihood of casualties.
The Canal Turn
Many a potential winner and the skilled horse has been deceived by the sharp 90-degree turn one must land over a 5ft fence. The Canal Turn is number eight and 24 of all the fences.
Valentine's Brook
At the height of 5 feet (1.52 m) it is named after a horse with the name Valentine which tried to jump over the fence backwards. It is not as challenging as Becher's Brook but still has a drop of 5 ft when the horse lands.
Becher's Brook and the Chair may be the most famous obstacles. Still, there are many others that can prove to be just as challenging and depend on the horse's endurance and how many other horses are nearby.