The National Hunt Chase Challenge Cup has been going for 160 years. It is held in Cheltenham and coincides with the Cheltenham Festival. It is a very well known race that is almost as popular as the Grand National. The track has changed many times during its history, and it is also well known as being good preparation for the Grand National, which is held not long after.
When and Where is the National Hunt Chase Challenge Cup?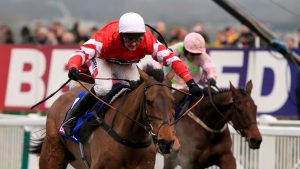 The race is a British steeplechase held in Cheltenham during the Cheltenham Festival in March. Cheltenham is a town in the Cotswolds in Gloucestershire, England. The competition has been held at various places during its history. Many horses that finish with good positions often go on to race well in the Grand National, which happens just one month later. Some of the horses that have gone onto to a first three finish during the 2000s include Teaforthree in 2012 and Cause Of Causes which won in 2015. In 2017, Tiger Roll went on to win the Grand National at Aintree in 2018.
What is the National Chase Challenge Cup?
The race is a Grade 2 National Hunt steeplechase for less experienced riders. The horses can only enter if they are over five years old. Eligible horses need to have finished two chases in the first four over three miles or more.
The Course
The Old Course at Cheltenham is one mile and four furlongs. There are twenty-five fences that have to be jumped during the race. The length is longer on the new course as it is three miles and over two furlongs. The 2020 race had a shorter circuit of only 23 fences which is three miles and six furlongs.
The National Hunt Chase Challenge Cup has seen many distances, courses and eligibility changes. The race continues to challenge the skills of riders and the endurance of horses.