The Aintree Racecourse is most well known for the Grand National Steeplechase. However, it is also used for a number of other purposes that people do not know about. It is a true sporting, entertainment and recreation area that is located in Merseyside England. Here is what happens in Aintree;
Racing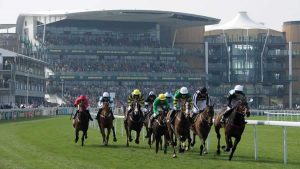 There are other races that happen at Aintree Racecourse apart from the Grand National that happens in April of every year. There is also an October meeting that features the old Roan Chase. The Grand Sefton Steeplechase, Becher Chase and Many Clouds Chase happen in December.
Golf
Many people are surprised to know that a 9-hole golf course and driving range can be found at the racecourse. The course includes Becher's Brook which is one of the steeples used in the Grand National. The gold course can be accessed from Melling Road. The golf course does not open when Aintree is being used for horse or motor racing.
Motor Racing
Aintree is also a motor racing course and was used for The British Grand Prix in the 1950s and 1960s. There has also been a number of other races including the Aintree 200 which included a famous win by Jack Brabham in 1964. There is also something interesting about the course. There was a horse and motor racer called Alfonso de Portago that competed in both races at Aintree.
Music
A number of well-known artists have played at Aintree including Michael Jackson in 1988 and more than 100, 000 people came to the concert. Pink also played at the course in 2007. The Kaiser Chiefs and Chemical Brothers played in 2007 at the Pavillion.
Aintree is not just about steeplechasing and the Grand National. People come to the course to play golf, see a concert or even watch motor racing. The course is a British institution where good times are assured.