Red Rum was a true champion of the Grand National that will go down in history as providing some of the most amazing moments in sporting history. The champion won the race three times in the 1970s and had an incredible record with very few falls.
Why Red Rum is a Legend?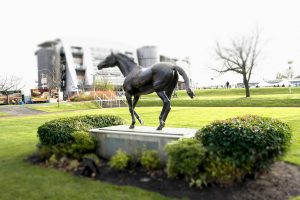 In 1973 Red Rum came from 30 lengths behind to win the race over a tired Australian chaser with much more weight than Red Rum. Crisp led all the way until it slowed near the finish line after leading for most of the race. Incredibly in 1974 Red Rum again carrying a significant weight won the race. Red Rum then came second twice in 1975 and 1976 where he was held off by Rag Trade. In 1977 after a very long career and having almost won the race the previous year, the champion won its third and last Grand National. Red Rum's record looks even more prestigious when you consider it also won the Scottish Grand National in 1974.
Retirement and Fame
Red Rum was set to race the 1978 Grand National, but it got a hairline fracture with the race coming up. The horse was retired before the 1978 race. The horse was a huge celebrity with the horse's image found on all kinds of commercial products and memorabilia. Books have been written about Red Rum, and he could be found leading horses out to some of the biggest races in Britain. Songs were also written about Red Rum. The horse died on the 18th of October 1995. The horse's death was widely reported, and the champion was buried near the finishing line of the Aintree Racecourse,
Red Rum captivated fans because of the horse's ability to come from behind and take out consecutive Grand National's. The horse's record of consecutive wins has only recently been matched, and he is one of the fan's favourites.