The 1928 race was not like any other Grand National, as it was previously well known for bringing good luck to the winner and lots of bad luck for the majority of the field. Tipperary Tim's jockey was not a well trained professional by modern standards, and the race was run in heavy conditions.
The Famous Call
"Billy boy, you'll only win if all the others fall" was called from a friend to Jockey William Dutton before the 1928 race. Incredibly this happened! 42 horses started, and only two finished. The winning horse was Tipperary Tim which was a 100-1 shot before the race. All of the field either fell over jumps or just couldn't finish.
The Conditions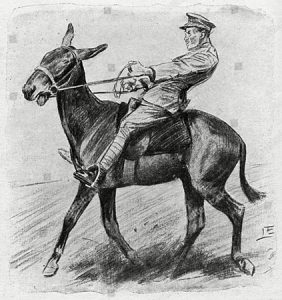 The conditions were not ideal for the 1928 Grand National as the weather was misty and the track was heavy. It is well known in the racing scene that a heavy track with lots of water in the ground makes it a slower race. It is also slippery, and it takes more energy for the horses to race well and go over the jumps.
The Race
Tipperary Tim's luck, or bad luck for all other horses, began when Easter Hero jumped into the eighth fence instead of over it, causing a pile-up of horses and jockeys. This resulted in only seven horses coming off the jump with their jockeys. When the last jump was about to be reached, only three horses remained including Great Span, Billy Barton and Tipperary Tim. Great Span left the race as its saddle slipped off, and Billy Barton which was leading lost its jockey on the last. Tipperary Tim waltzed over the line to claim the most unlikely victory. Two horses and jockeys finished the race.
One of the weirdest and luckiest wins of all was Tipperary Tim in the 1928 Grand National. A race that saw the field get decimated in the course conditions.