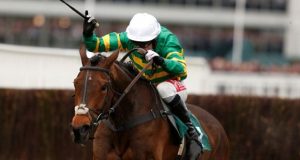 The National Hunt Chase Challenge Cup is a significant lead up to the Grand National and many horses that have won this race have also gone on to win the Grand National. The race is part of the Cheltenham Festival which has attracted controversy over the years.
Origins of the Race
The Cheltenham Festival came about in 1860, and it was called the Grand National Hunt Meeting. It was held over several locations including Warwick Racecourse. Some alterations and repairs at Prestbury Park made the track more suitable for the race in 1902, where it has stayed ever since. The Cheltenham Festival featured three days of races up until 2005. This has now changed with the fourth day added. There is a major race every day of the festival and six races every day.
Controversy
Racing has seen a lot of controversy throughout its history, such as in 1829 when Cheltenham's Parish Priest, Reverend Francis Close tried to disrupt the race because he believed it was evil. The stands were burnt around the same time although it is not known if there was a connection with the congregation's dislike of the race.
There has also been a concern for the welfare of both horses and jockeys over the years of the festival. Three horses died on the opening of the 2012 festival, and others died during the same event. The ground was very firm, and organisers were criticised for going ahead with the race. In 2016, 11 horses were killed at the festival. In 2018, there were six horse deaths, and in 2019 there were three fatalities. Changes to the race have been made since such, as a smaller number of runners.
The National Hunt Chase is part of a genuinely famous festival that has captivated audiences and never been short of controversy. Despite concerns for the welfare of horses and jockeys, it continues to attract fans worldwide.